Air Duct Cleaning & Restoration
Air Duct Cleaning & Restoration | Texan Residential Services
Air Duct Cleaning & Restoration
Purify the Air Quality in Your House with Air Duct Cleaning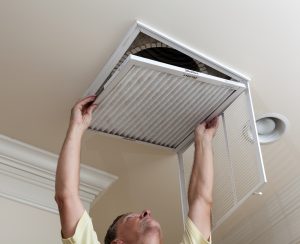 Air ducts play a vital role in the air quality in your home, as they are responsible for the flow and supply of clean air into space. But over time, the air duct starts to get damaged, leaky, cracked, clogged, which can further contribute to reduced indoor air state, leading to allergies, sinus, and other health problems.
Many people often neglect the air duct cleaning service. But, if you are looking for air duct cleaning in the Texas area, don't worry! Texan Residential Services is here to help. We provide comprehensive air duct cleaning and restoration services to remove the build-up of pollen, dirt particles, and other airborne pollutants.
Our trained technicians will reach your place in no time to perform a thorough inspection before starting the deep cleaning process. Finally, we present solutions based on requirements and budget to have better air quality in your home.
Importance of Air Duct Cleaning
Regularly cleaning your air duct can help improve your indoor environment by ensuring that the HVAC system operates at an optimal level. However, getting air duct cleaning services will solve all the problems overall. Here we have listed a few reasons why you should hire professionals for cleaning your air ducts, including:
Improve system performance
Prevents fires causing incidents
Clues You Need Air Ducts Cleaning Services 
According to NADCA, people should clean the air duct every three to five years. But if you use your fireplace regularly and do not have time to change your furnace filter, it is important to have a complete restoration of the air ducts.
However, here are some signs that you need air ducts cleaning services:
Have mold or other microbial growth inside the ducts

You often feel sick

Hear rushing feet or flapping wings in the ducts

Your house has a bad smell

Visible accumulation of dirt, dust, or debris in the vents

You recently completed your construction work

For three to five years, you have not cleaned your air duct.
If you notice any of the above signs, it's time to hire Texas residential service professionals for air duct cleaning. We thoroughly inspect your duct system to provide you with better indoor air quality. In addition, we ensure that dirt, debris, and other contaminants are completely removed from any duct system.
Our trained experts only use high-quality tools to ensure that no damage is caused during the cleaning procedure. Plus, save money on additional costs down the road for both your property and your health. You can also follow the entire duct replacement process with our technicians to get to know it better, ask questions and participate in your air duct replacement decision.
Schedule Your Air Duct Cleaning & Restoration Service Online
Whether you are scouting online for a gutter cleaning, dryer vent, air duct, or fireplace repairing services, Texan Residential Services has covered all the things! We can be one of your best choices for residential service in Texas and surrounding areas.
We are the main supplier of professionals offering our services for Texas residents. Our professionals only use up-to-date practices to clean your air duct system, setting the complete scheme under bad air compression for thorough and entire cleaning without leaving anything behind.
From pet dander to fungus and periodic pollen, there's no way to stop it from spreading throughout your home without professional cleaning. So, it is better not to wait for the next season of air duct cleaning and restoration services. Just trust us, and we will make your indoor air breathe like new-fangled.
Air Duct Maintenance
The air duct is a fundamental component of your air conditions or heating system and needs to be maintained properly. Therefore, Texan Residential Services is always ready to help its customers in this job by conducting annual maintenance visits. 
Air Duct Replacement
If your air duct has given up after prolonged use, reach out to Texan Residential Services for quality and affordable air duct replacements. The services are open to all the people of Texas.  
Air Duct Disinfecting
Dust, mites, mold growth, etc., might circulate in your indoor air pumped by your system, which can be hazardous for health. Therefore, call Texan Residential Services to disinfect and sanitize the air duct to improve your air quality. 
Air Duct Repair
Air duct rarely malfunctions, but if and when it does, give Texan Residential Services a call. Our specialists will examine your system for any damage and repair it within no time. 
NEED HELP? Give us a call and book your free inspection today! 
Our Business Is Grounded In:
The company provides all of your HVAC equipment for over ten years now in Texas.

We are a local business; we value our reputation, and we are committed to providing only the best service.

We use quality equipment, including a powerful vacuum system, to clean the ducts.

The company is licensed and certified. Plus, experts adhere to business standards when it comes to air duct cleaning services.

We are dedicated to perfection and thoroughness in all the jobs we conduct.

We work on your schedule for your convenience and are available 24/7 at your service.