Quick & Affordable Fireplace Repair | Texan Residential Services
Get Quick & Affordable Fireplace Repair
A fireplace is an important functional part of your home which enhances the appearance of your space. During the chilly Texas winters, this can add warmth to your home, and you can use it as a centerpiece of the room.
But if your fireplace becomes problematic and not well-maintained, it can make your living tougher. Not only will it provide you with uncomfortable nights, but if you ignore the repairing process, it can also be very expensive in the future.
No need to worry; we can help! Our knowledgeable fireplaces crew will provide you with quality fireplace repair services. They will also regulate which possibility is best for your resident and help you with new ideas and decide what kind of repairing your fireplace needs.
If you want to have a lasting impact on your home in the eyes of guests, having an indoor stone fireplace in your living area or an outdoor fireplace can be one of the best options.
On the other side, the fireplace is the thing that keeps you warm and cozy during the winter season. So, if you desire your fireplace to keep going for a long time, provide it with good care and maintain it periodically.
But there are many issues: your fireplace might stop doing the functions mentioned above; then it is time to get the help of Texan Residential Services. Whether you need a fireplace repair service or any other related to the chimney, roof, gutter, and so on, we are always at your service!
Texan Residential Services repair your hearth products with an unbeatable quality service. Our focus is to keep you and your family safe and your fireplace fixing looking great and functioning flawlessly. We have extensively trained staff in the company that offers a wealth of knowledge and work to provide you with answers to all of your questions, no matter what.
Common Signs Your Fireplace Need Repair
When your fireplace is not functioning properly, it not only affects the comfort of your home it can also be risky for you and your household. Here we have listed some common signs that your fireplace needs repair services:
If you don't repair your fireplace now and then, it can become clogged with flammable creosote-type materials that won't leave any space for smoke to escape. Hence, it will stay inside your home, cause a respiratory hazard, and lead to a fatal accident.

If you notice white spots in your chimney, it means there is excess moisture, and you need a professional repair. Rust on your fireplace or register is another clear indication that you have added moisture to your chimney.

Damaged wallpaper around your fireplace also indicates that you have a moisture problem that needs a solution.
Don't overlook the common symptoms of home damage as mentioned above, leading to dangerous problems.
However, if you notice any of the above signs that your home needs repair, call the Texan Residential Services team and make an appointment for the required repair job. We will make sure your fireplace is operating safely and efficiently throughout the season.
Services offered by Texan Residential Services
Fireplaces are durable and can last for many years, but they will still need special care during those years. Are you looking to install a new furnace to your home interior design? Or want to upgrade your existing fireplace to flawless your home? At Texan Residential Services, we have many different services to help your fireplace continue providing warmth and joy to your family.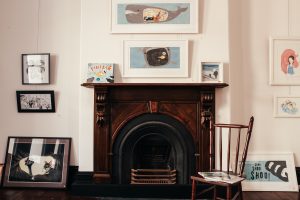 Our skilled experts are experienced and trained in fixing and repairing the fireplace. They will visit your home and will inspect the problem. Once they understand what the problem is, they will provide you with a quote, along with a clear description of what the problem is.
We can also help you transform your home and minimize the risk of exposure to hazardous chemicals to protect the assets from smoke hazards. If you doubt our fireplace services, call us today!
We're Here When You Need Us!
Having a fireplace can enhance the overall look of a home. But to make sure that your fireplace works safely and efficiently, you need to hire a certified professional like Texan Residential Services. We can spot the problem and repair them as soon as possible.
Fireplace panel replacement
We thoroughly inspect your fireplace and catch the little things you may not notice. It can help you to detect if you need a Fireplace panel replacement or not.
Fireplace Maintenance
Just like any household appliance, fireplaces need to be serviced regularly for everything to be working properly. So, we are here to help you with Fireplace Maintenance!
Fireplace Cleaning
Our experts do a great job cleaning your fireplace without leaving any area messy behind so you can enjoy a burning fire without worry about your loved ones.
Our Business Is Grounded In:
We ensure that the gasket and seal are in deterioration.

Testing the safety shut-off valve

Clean the firebox and control compartments.

Examine the entire fireplace and ensure that the burner is functioning properly.

We test to ensure that there is no issue with fireplace ignition.

Our experts clean and inspect the burners.
So, this is our official working performance and style of Texan Residential Services. No matter what type of fireplace you have, you can trust our experts when you need fireplace repair. Our fireplace experts are dedicated to finding the solutions to the problematic fireplace. We take our work very seriously and are more than happy to help you with your fireplace problems.
NEED HELP? Give us a call and book your free inspection today!