Professional Chimney Repair Services in Austin: Expert Fireplace Repair and Sweeping
Quick & Affordable Fireplace Repair | Texan Residential Services
Chimney and Firebox Repair in Austin: Why Choose Us for Masonry Services
When it comes to chimney and firebox repair in Austin, choose us for unmatched expertise in masonry services. Our dedicated team specializes in a range of fireplace services, from Austin fireplace repair to efficient gas fireplace installations. Serving Austin and the surrounding areas, we prioritize the safety and performance of your fireplace, ensuring it operates safely and efficiently.
Our certified technicians, with expertise in fireplace contractors, offer thorough inspection and cleaning services. Whether you need chimney cleaning, chimney relining, or chimney liner installation, we have the specialized tools and experience to keep your fireplace working safely and prevent the risk of chimney fires.
We understand that a fireplace is a crucial part of any home in Austin, providing consistent heat and contributing to the indoor air quality.
Give us a call today to schedule your fireplace installation in Austin or address common repair needs. From pilot light troubleshooting to complex chimney and fireplace issues, our experienced technicians are able to identify and fix problems promptly. Trust us to ensure your fireplace in Austin, TX's Cedar Park, West Lake Hills, Lakeway, Oak Hill, Del Valle, and beyond, operates efficiently and safely.
Contact us today for professional services that prioritize the longevity and reliability of your fireplace.
A fireplace is an important functional part of your home which enhances the appearance of your space. During the chilly Texas winters, this can add warmth to your home, and you can use it as a centerpiece of the room.
But if your fireplace becomes problematic and not well-maintained, it can make your living tougher. Not only will it provide you with uncomfortable nights, but if you ignore the repairing process, it can also be very expensive in the future.
No need to worry; we can help! Our knowledgeable fireplace crew will provide you with quality fireplace repair services. They will also regulate which possibility is best for your resident and help you with new ideas and decide what kind of repairing your fireplace needs.
Austin's Trusted Chimney Sweep and Fireplace Service: Repair Expertise Unveiled
Discover the essence of reliability with Austin's Trusted Chimney Sweep and Fireplace Service, where our repair expertise is unveiled to ensure your fireplace operates seamlessly. As the go-to chimney sweep in Austin, we extend our professional services to New Braunfels and beyond, embodying a commitment to excellence in cleaning and repair.
Our seasoned technicians prioritize the safety of your home by expertly removing soot and maintaining the efficiency of your gas or wood fireplace. Being a dedicated company in Austin, we understand the importance of chimneys and fireplaces as a vital part of your home's interior. From routine inspections to specialized services like flue liner installations, we provide the comprehensive service you need.
Part of our service involves identifying potential issues, ensuring your fireplace cap is never missing, and keeping it working safely and efficiently. We take extra precautions, utilizing drop cloths to protect your space during our cleaning and repair services. Trust us for the thorough annual inspections your chimney requires, guaranteeing a safe and efficient fireplace that remains a cherished part of your home.
Call us today, and let Austin's Trusted Chimney Sweep and Fireplace Service elevate your fireplace experience to new heights.
Air Duct Cleaning and Vent Repair Services in Austin: Service Area and Types of Fireplaces
Embark on a journey towards cleaner air and well-maintained home with our Air Duct Cleaning and Vent Repair Services in Austin. Serving as a beacon of excellence, we extend our expertise beyond the traditional Austin chimney services, ensuring your fireplace remains a centerpiece of warmth and comfort.
We specialize in comprehensive air duct cleaning, making sure your fireplace, whether it's a chimney or fireplace, operates optimally. Our services encompass the entire interior of your home, offering meticulous attention to detail to guarantee a safe and healthy living space.
Regular inspections, including checking if your fireplace cap is missing, are part of our commitment to your safety. We understand that different fireplaces use various technologies, and we provide specialized services tailored to each type. Whether it's an annual inspection for your Austin chimney or a thorough vent repair, our team is dedicated to meeting the unique needs of your home.
At the core of our service is the assurance that your fireplace is in top condition, creating an atmosphere of warmth and well-being. Contact us today, and let our Air Duct Cleaning and Vent Repair Services redefine your expectations for a healthier and more comfortable home environment.
Types of Fireplaces
There are several types of fireplaces, each with its own design, features, and fuel source. Here are some common types of fireplaces:
Wood-Burning Fireplaces:

Traditional fireplaces that burn wood logs.
Can be masonry (built from bricks or stones) or prefabricated (pre-made and installed).

Gas Fireplaces:
Electric Fireplaces:

Operate using electricity.
Often portable and easy to install, with no need for a chimney or venting.
Provide heat through a heating element and often have a visual flame effect.

Ethanol Fireplaces:

Use bioethanol as a fuel source.
Clean-burning and environmentally friendly.
Typically it does not require a chimney or venting.

Pellet Stoves:

Burn small, compressed wood pellets.
Can be an efficient and automated way to heat a space.
Requires electricity to operate and a venting system.

Masonry Heaters:

Also known as Russian or Finnish fireplaces.
Designed to store and radiate heat over an extended period.
Typically constructed with bricks, tiles, or stones.

Outdoor Fireplaces:

Built for outdoor spaces such as patios or gardens.
Can be wood-burning, gas, or even electric.
Provide warmth and ambiance for outdoor gatherings.

Double-Sided Fireplaces:

Designed to be viewed from two sides, often dividing two rooms.
Available in various fuel types, including wood, gas, and electric.

Inserts:

Retrofit options that fit into existing fireplaces.
Available in gas, wood, or electric varieties.

Freestanding Stoves:

Stand-alone units that can be placed anywhere in a room.
Commonly fueled by wood, gas, pellets, or electricity.
When choosing a fireplace, consider factors such as fuel availability, installation requirements, maintenance, and the desired aesthetic and heating efficiency for your space.
Discover our services that are perfect for your fireplace at your home! Our expert team is ready to assist you in selecting the ideal option that suits your style and needs. Contact us today to explore our wide range of fireplaces and bring warmth and charm to your living space. Your satisfaction is our priority!
Comprehensive Fireplace Repair in Austin: Choosing the Right Masonry Expert for You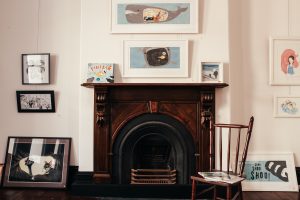 Embark on a journey to transform your fireplace experience with our Comprehensive Fireplace Repair in Austin. Choosing the right masonry expert is paramount for the longevity and aesthetic appeal of your fireplace. As trusted fireplace contractors in Austin, we specialize in every aspect of fireplace installation, ensuring a seamless blend of functionality and design.
Our seasoned professionals understand the importance of regular inspections to guarantee the safety and efficiency of your fireplace.
We believe that each fireplace installation in Austin requires specialized attention, recognizing the unique characteristics and requirements of every home.
By prioritizing comprehensive fireplace repair, we go beyond mere functionality, infusing an artistic touch to enhance the visual appeal of your living space.
Whether it's routine inspections or addressing specific concerns, our expert team ensures your fireplace is inspected annually, providing the necessary care it deserves.
When you choose us as your masonry experts, you invest in a commitment to excellence, transforming your fireplace into a focal point of warmth and sophistication. Contact us today, and let our Comprehensive Fireplace Repair services redefine your expectations, ensuring your fireplace stands as a testament to craftsmanship and enduring quality
Expert Fireplace Repair Services in Austin, TX: Contact Us Now!
Fireplace repair services can vary depending on the type of fireplace and the issues it's experiencing. Here are some common fireplace repair services:
Chimney Cleaning:

Removal of creosote and other debris from the chimney to prevent blockages and improve ventilation.

Chimney Repair:

Fixing cracks, leaks, or structural issues in the chimney.

Flue Repair:

Repairing or replacing the flue liner to ensure proper ventilation and safety.

Firebox Repair:

Fixing issues with the firebox, such as cracks or damage to the masonry.

Damper Repair:

Repairing or replacing the damper to control airflow and improve energy efficiency.

Gas Valve Replacement:

Replacing faulty or outdated gas valves in gas fireplaces.

Pilot Light Repair:

Fixing issues with the pilot light in gas fireplaces to ensure proper ignition.

Thermocouple Replacement:

Replacing a malfunctioning thermocouple in gas fireplaces to regulate gas flow.

Electric Element Replacement:

Replacing faulty heating elements in electric fireplaces.

Fan Repair:

Repairing or replacing fans in some fireplace models to improve heat distribution.

Seal and Gasket Replacement:

Replacing worn-out seals and gaskets to prevent air leaks in wood-burning or gas fireplaces.

Ignition System Repair:

Fixing issues with the ignition system in gas fireplaces for reliable operation.

Smoke and Draft Issues:

Diagnosing and resolving problems related to smoke drafting into the room rather than up the chimney.

Crack and Masonry Repair:

Addressing cracks or damage to the masonry or exterior of the fireplace.

General Maintenance:

Conducting routine maintenance to keep the fireplace in good working condition and prevent future issues.
It's important to hire a qualified and experienced professional for fireplace repairs to ensure safety and proper functionality. Regular maintenance and timely repairs can extend the life of your fireplace and enhance its efficiency.
If you are looking for "fireplace contractors Austin area" or "fireplace installation Austin area" we are always available.
FAQs About Our Chimney Masonry and Fireplace Repair Austin Area
How can I schedule a fireplace repair in Austin?
To schedule a fireplace repair in Austin, simply reach out to our experts through the "Contact Us" section on our website. Our team of experienced professionals specializes in fireplace cleaning and repair, including services for stone fireplace repair, gas fireplace issues, and chimney masonry restoration.
Why should I choose chimney masonry experts in Austin for fireplace repair?
Choosing chimney masonry experts in Austin ensures that your fireplace repair is handled by professionals familiar with the intricacies of stone fireplace repair, gas fireplace installations, and overall chimney maintenance. Our team specializes in providing top-notch services, addressing issues like gas log problems and chimney cap installations.
What fireplace services do your experts in Austin offer?
Our Austin-based experts offer a comprehensive range of fireplace services, including fireplace cleaning and repair, gas fireplace installation, and stone fireplace restoration. We specialize in addressing specific concerns such as gas log troubleshooting, chimney inspection, and damper repairs.
How important is it to contact professionals for chimney masonry in Austin?
Contacting professionals for chimney masonry in Austin is crucial for ensuring the longevity and safety of your fireplace. Our experts handle various needs, from fireplace contractors for installations to gas log repairs and flue inspections.
Do you offer additional services apart from fireplace repair in Austin?
Yes, we provide a range of additional services beyond fireplace repair, including dryer vent cleaning, chimney inspections for homeowners, and expert advice on the need for chimney damper adjustments. Our expertise extends to wood-burning fireplaces, gas log installations, and chimney cap installations to meet diverse homeowner needs.