Affordable & The Best Chimney Sweep Services in Texas
Got clogged chimneys and faulty fireplace components? Or noticed any strange smell coming from your fireplace? If your answer is yes to these questions, it means your Chimney is lined with creosote and creating problems. But how can you clean your Chimney so that you can enjoy the warm, cozy moments with your family? 
No need to worry! You need Texan Residential Services to solve your problem. By calling our certified chimney sweeping experts, you can maintain a safe and efficient fireplace. Trained technicians help you get rid of soot and ash from chimneys to reduce smoke from clogged chimneys and prevent fatal fires.
We have over ten years of working background and cleaning flues, chimney sweeping, dryer vent cleaning, and more. Our professional chimney sweeping services include a basic inspection as part of the chimney cleaning. The technicians also give you excellent advice on burning methods and maintaining your Chimney.
Importance of Chimney Sweep
The Chimney plays a key role in keeping smoke, toxins, and harmful fumes out of the home, providing heat to every home, and keeping the air quality intact. As long as a chimney flue and other paths are kept clear, the furnace will use the fuel seamlessly. Here we have listed some other reasons: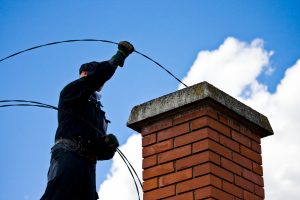 Prevent chimney fires

Avert smoke

Ensure less fuel consumption

Safeguard the sturdiness of the Chimney

Protect your upholstery

Prevent allergies and ensure good air quality
A chimney sweep means the process of cleaning the interior of the Chimney to keep the home away from any exterior elements. However, an annual sweep can also help you save money and keep your system in tip-top shape.
Moreover, a proper maintenance routine is essential to keep your fireplace and chimney in good condition during the winter months. A clean chimney guarantees a better, efficient, and safe home heating system.
Why Do You Require Chimney Sweep?
Sitting in your home in front of a burning log fire during winters is a wonderful experience. The Chimney requires routine maintenance to ensure the health and safety of the fireplace. The main role of chimneys is to make a path for deadly flue gases. If you have a clogged chimney, it can lead to monoxide poisoning and fires. 
According to an NFPA report, the single most important factor behind home heating fire accidents was the failure to clean chimneys. The chimney sweep is not a DIY chore. It is recommended to use our qualified chimney sweeps.
If you notice your upholstery getting dirty quickly, or if family members or coworkers have allergies, it could mean mold or mildew growth in the fireplace. It's time to get the tools out!
Our chimney experts in Texas and surrounding areas have been providing comprehensive chimney services for many years. They sweep the Chimney from the bottom to prevent the dispersion of debris, dirt, and dust.
Getting cleaning service regularly is a great way to protect yourself and your loved ones from risk. Our experts will help you safely remove all tools, cobwebs, creosote, dead birds, and other objects blocking chimneys. As per the NFPA, you should have your chimney inspected and cleaned at least once a year.
Hire Us For Reliable Chimney Sweeping Services In Texas
Cleaning the Chimney can seem like a difficult and expensive job, but proper maintenance of the fireplace and Chimney is essential in keeping your family happy and healthy. Texan Residential Services understands all aspects and offers its customers economical and fast services. If you invest some money in the safety and functionality of your chimney, it can give you peace of mind.
So, what are you waiting for? If you find that you are having a problem with your fireplace, request service today!
NEED HELP? Give us a call and book your free inspection today! 
Our Business Is Grounded In:
We provide 24-hour service by our accredited team members.

Our trained experts provide fast and reliable chimney sweeping services that can extend the life of your home.

We offer chimney inspections, strength testing, smoke, and integrity testing. In addition, carry out all minor and major repairs to fireplaces and flues.
Our technicians always prepare clean work areas before they begin to prevent any costume from leaving your home.