Fireplace Panel Replacement
Damaged or Cracked Fireplace Panel Replacement | Texan Residential Services
Fireplace Panel Replacement
Get Fireplace Panel Replacement Before the Panel Damage Gets Worse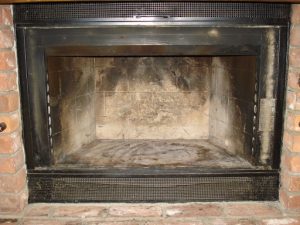 Do cracks in your factory-built fireplace refractory panel take away the charm of your living space? Contact Texan Residential Services today to make necessary replacements and repairs. All our replacement and repair technicians are well trained and certified.
They are equipped with a huge pool of knowledge and committed to providing superior quality service at the most affordable prices. They have many years of experience in inspecting, repairing, and cleaning various fireplaces and panel replacements to ensure that the system works efficiently.
Factory-made fireplaces consist of four refractory panels. They are the sheets of bricks fitted to the bottom and sides of fireplace walls. These panels withstand not only extreme heat but also add long life and strength to the fireplace. They are built to reflect heat into the living room.
But same as other household appliances, these fireplace panels are not meant to stay forever and can get damaged. Years of use cause wear and tear, pitting, abrasion, and cracks. This reduces the effectiveness of the fireplace panels and leads to high heating bills.
If not replaced with new manufacturing panels on time, it can result in a serious fire hazard to you and your family. Our experienced professionals in Texas and nearby areas will wear safety goggles and gloves when fitting, repairing, or replacing the panels. Contact them today to eliminate the old panel and install the properly-sized new fireplace planes safely.
Prevent Dangerous Fire with Fireplace Panel Repairs & Replacement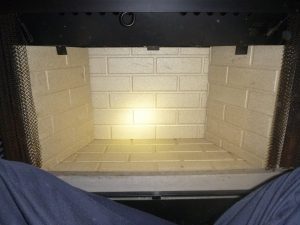 If your refractory panels require replacement, don't continue to burn fires till the damaged panels have been replaced by an expert. It's because even the small flame from fireplace panels could penetrate the walls or ignite from combustible materials put inside the firebox.
When replacing the panels, you need to go slow because the fireplace panels are fragile. So, rather than doing the replacement yourself, it's better to hire our qualified experts.
The New refractory panels will offer a clean brick-like appearance all across the firebox. Regular chimney inspections from Texan Residential Services can help determine if you need your refractory fireplace panel replacement. Replacing the panels offer a secure environment in your home and also boosts the efficiency of the unit.
When Should You Replace Damaged or Cracked Fireplace Panel?
If the panel crack is less than 1/16 inch wide or cannot fit a dime into the crack, you need a limited repair. But as per the Chimney Safety Institute of America, you need to replace the firebox refractory panels when a nickel on the end can fit into the crack or when the surface gets worn out more than ¼ inch.
Fireplace panels expand and recede as they heat and cool down. There is no need for concern because it's normal. But if you spot that the panel of your fireplace is deteriorating, the best option is to get a new fireplace panel installed.
If the panel cracks appear all the way through the panels, replace them immediately. After replacing refractory panels, avoid replacing the fireplace for at least 24 hours or till the newly installed panels reach room temperature.
Get in touch with Texan Residential Services immediately. Our highly skilled expert technicians will help you evaluate the condition of your fireplace and maintain a firebox that is free of damage. Treating the problem early helps you extend the lifespan of your fireplace.
A fireplace with cracked panels could no longer insulate your home from fire. Moreover, the fire could disturb your life, and you should avoid it at all cost. Thus, having a deep inspection from our expert technicians helps you to check the integrity of your prefabricated or refractory fireplace panels.
Call Us for Free Fireplace Panel Replacement Today
Any service related to your air duct, including installing, replacing, repairing, or maintaining, may feel like a big investment. But you may be wondering how much? The average air duct replacement may cost between $3000- $6000 for a 2,000 sq. ft. home. Costs may vary for larger or smaller homes.
Replace and Repair Cracked Refractory Panels
Fireplace refractories are built to be replaceable and removable fast. Our technical repair and replace your whole firebox so that it gets free of openings, creosote build-up, and damage that could threaten your safety. 
Fireplace Hearth Installation and Repair
Postponing the maintenance of the fireplace panel puts your home at risk of fire. The hearth is the floor of a fireplace. Our technicians seal gaps at the front opening of a fireplace to prevent heat or sparking.
Repair Fireboxes
Our experienced technical repair fireboxes seal up the holes and fill the cracks with moisture and fire-resistant refractory mortar.
Wall Screen Replacement
We also offer the replacement of fireplace screens. If the mesh screen goes stuck on its track or the screen appears worse, call our certified technicians to install a fully functional replacement screen.
NEED HELP? Give us a call and book your free inspection today! 
Our Business Is Grounded In:
All our technicians have all the skills and tools required for fireplace panel replacement.

Our team offers high-quality fireplace panel replacement service in Texas and surrounding areas.

We are a trusted source for all fireplace needs.

Certified experts ensure your fireplace meets the required safety standards.

We are experts in masonry construction and will ensure the fireplace and firebox is safe and looks more gorgeous than ever before.

Our affordable 24*7 fireplace panel replacement services help you get the services at any time.

We offer a high peace of mind to our customers by protecting their homes and families from potential fire hazards.